WHITENING GEL PEN
IT WHITENS TEETH WITH LIGHT!
- Cleans - Freshens - Flavoured - Gentle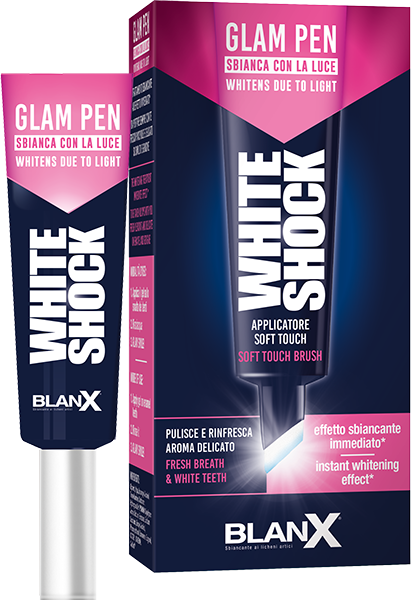 BlanX Pen is the whitening treatment with soft-touch applicator that you can take everywhere with you to add a touch of glamour to your smile at all times. Thanks to the exclusive BlanX White Shock formula with the patented active ingredient ActiluX®, the BlanX Pen activates with light and whitens teeth every time you smile, all day long. The BlanX Pen is practical and safe for tooth enamel and gums. Additionally, the Blue Formula acts immediately with a temporary optical whitening effect.
HOW TO USE IT:
1. Apply the gel to your teeth 2. Rinse 3. Glam Smile!

To get the best results, do not alternate BlanX White Shock with other toothpastes.

12 ml